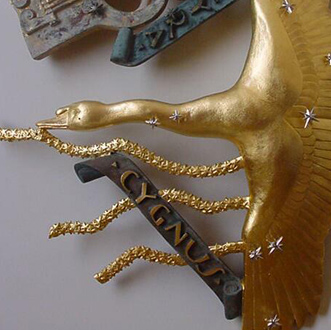 | | | |
| --- | --- | --- |
| &nbsp | The Celestial Sphere (Paul Manship 1885-1966), detail of the Swann, the first restored item from the Sphere. | &nbsp |
Events

The following exhibitions were initiated to enhance our restoration projects:
Etchings by Rembrandt: Reflections of the Golden Age (2000)
Kingdoms of the Sun (2001)
A Dutch Taste for China (2002)
Dutch Porcelains, The White Gold (2003)
The exhibitions were kindly provided and organised by Museum Geelvinck Hinlopen Huis in Amsterdam for the Library at the Palais des Nations in Geneva.

All exhibitions supported the theme of Comprehensive Dialogue among Civilizations.

For each exhibition MWPF organised a reception. The first reception was attended by the Secretary General of the UN and his wife, Mr. and Mrs. Kofi Anan.

The second exhibition marked the UN Year Dialogue among Civilizations. The last three receptions were organised in cooperation with WIPA (under UNCTAD).

The opening reception of the exhibition 'A Dutch Taste for China' highlighted the Dedication Ceremony for the completed restoration project of Henrik Sørensen's mural 'Le Rêve de la Paix' in the Library of the Palais des Nations.


The Dedication Ceremony for the restoration of Marc Chagall's 'Peace window' took place on on Monday, 24 October 2005

. The window, completed in Summer 2001, was scheduled for UN Day of the UN Year 2001 "Dialogue among Civilizations". However, the tragic events of September 11th and their aftermath obliged postponement of this event.

This Dedication Ceremony took place under the patronage of the President of the 60th session of the General Assembly, H.E. Jan Eliasson, on Monday, 24 October, United Nations Day, at 6.15h. PM in the Visitors' Lobby of United Nations Headquarters. Refreshments were served from 6.00h. PM.

This year also marked the commemoration of the 100th birthday of the former Secretary-General Dag Hammarskjöld. It was in his honor that Marc Chagall's 'Peace Window'' was installed at the premises of the United Nations Headquarters in 1964, three years after Dag Hammarskjöld's untimely death.

For more information, please contact Ms. Rijuta Tooker in New York at: r.tooker@maecenas.us
or phone (+1) 718.291.6841
or fax (+1) 718.657.8777.